Displaying 1-28 of 28 results.
How to Buy & Trade
How To Trade Poe Currencies
We Trade You Buy Poe Currency face to face at the hideout.
1. Our Players will send a Friend Request to you and invite you to a Party; please accept Request in game.
2. Our Players will into your Hideout if you have one.
3. If not have Hideout, please go to Lioneye's Watch of ACT-1 after you join the party. We will go there and trade Currency With you.
4. Make sure to give us some items as the offer when Trading.
How to Buy Poe Currency at u4n.Com?
Uncomplicated and fast to get Path of Exile Currency at u4n.com, you place an order following the below methods:
1. Open our page for Currency: https://www.u4n.com/poe-currency
2. Select Your Server: PS4 Softcore, PS4 Hardcore, PS4 Standard, Xbox Softcore, Xbox Hardcore, Xbox Standard, PC Softcore, PC Hardcore, PC Standard.
3. Choose the quantity you want to Buy in by clicking ADD Cart or Buy Now, you can see it in your Shopping Cart.
4. Fill up the right Character Name, PSN ID / Xbox GameTag at your order information. If Your Order Information is correct, we will contact you in the game within 10 minutes.
5. Select the comfort method to Pay and completed the payment
6. Wait for order confirmed and delivery (in 5-30 minutes), and if not trade within 30min, go our site live chat, please. Maybe your order information not correct, need you sure about that. Your payment email will receive a message about the order.
7. You'll be able to track your order status on member Center any time if you are register when you buy Currency.
About PoE Currency
Poe Currency includes a lot of different orbs and scrolls. Used to trade, crafting, and Strengthen Items. Path of Exile Currency might be identified as drops from monsters or chests, purchased directly from different vendors in town, or received by way of the usage of the vendor recipe system by trading specific configurations of items to any town vendor. Currency items play a big part in the player to player trading program, with rare orbs in a position to be traded for useful gear, or even other types of Orbs that a player may well need in the time for crafting. PoE Currency is used to pay for items in player trading or Exchange Weapons with other payers. The primary use for trade currency is Exalted Orb and Chaos Orb.

How to get Currency:
1. Drop from monsters
2. Open chests
3. Exchange use Divination card
4. Exchange from Another player at trade website
5. Buy from a third-party website

High-Value Main of the Currency is as follows:

Mirror of Kalandra is the rarest and most useful currency items within the game, the drop rate is very low, of course, he is also the most expensive Currency, need 150+ Ex to Exchange Mirror, In League only about three months, copy equipment with Mirror Not very cost-effective, so it's relatively cheaper about 100+ Ex.

Exalted Orb is usually used to enhance a piece of rare equipment. Path of Exile does not have an auction house, nor does it have a currency for purchasing items. Players get the items they want by swapping things, which is equivalent to WOW Gold. Exalted Orb measures the Value of Items. The Value equipment that players don't need for their characters is usually exchanged for Ex, and then transfer the required equipment, or Currency.

Chaos Orb used to re-roll the random modifiers on a piece of rare equipment. Its circulation value in the game is also significant, mainly used to exchange ordinary Items and some other currency. Equivalent to WoW silver.

Orb of Fusing can be used to modify the linked sockets on an item. It is the most used Currency in the game. Link six-socketed Items generally requires 1500+ Orb of Fusing.
About Path Of Exile
Path of Exile is a free-to-play action role-playing video game developed and published by GGG. PC Version released in October 2013. Xbox One version released in August 2017, and PS4 version released on 26 March 2019.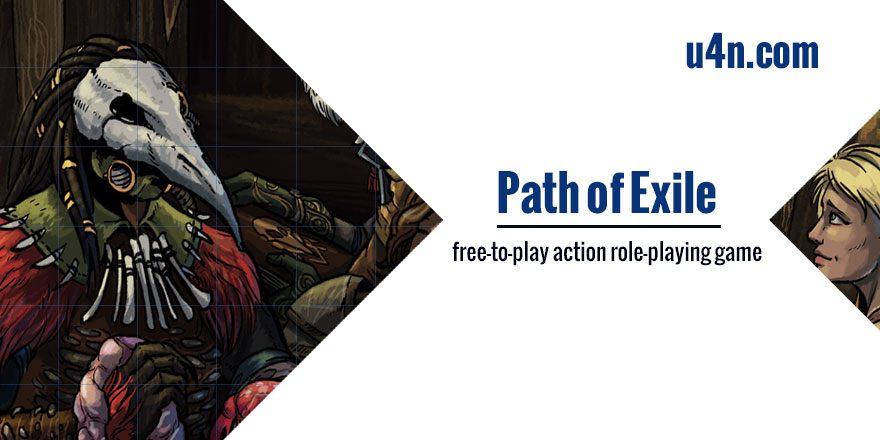 Poe is a real free game, the game has its own
micro-transaction system
, selling equipment skin and other items that do not affect the balance of the game. This game has 18+1 subdivisions, not a pvp game, it is a pure dark game, not very friendly to beginners, but it will be very interesting after playing. Highly flexible equipment, skills, Ascendancy, it has a lot of equipment, there are 261+ Skill Gems, may be any combination (such as six links equipment You can Embed six Gems, in theory, there are hundreds of billions of combinations), 1384 A talent point, when you get to 100 full level, you can get 127 points (should be, hopefully remember correctly), you can string these 127 points in this 1384 points. In theory, everyone can form their own personalized gameplay (BD).

There is no such Trade currency in the game. Everyone trades as a barter. Is it a primitive feeling? The fun of the game is to make your brush brush more refreshing in the continuous exploration and improvement of BD. You will get a lot of currency in the process of brushing, every currency is useful, it is the game, it is this game. The main theme.
U4N With PoE Currency
Without service, there will be no enterprise tomorrow. Service is at the heart of our industry. From the very beginning of the website creation, we have made the service as the purpose of the company's operation. Based on this aim, we have customized a number of systems to improve service quality and strictly enforce them. We also sincerely ask our customers to work together to supervise our service staff. Let us make a service that makes our customers and customers satisfied. u4n Have Large stock Orbs with Exalted Orb, Chaos Orb for PC, Xbox One, and PS4, So We can offer Cheap Poe Orbs with fast Delivery.
Below is an Data Report of the u4n Poe Currency history order based on Delivery time.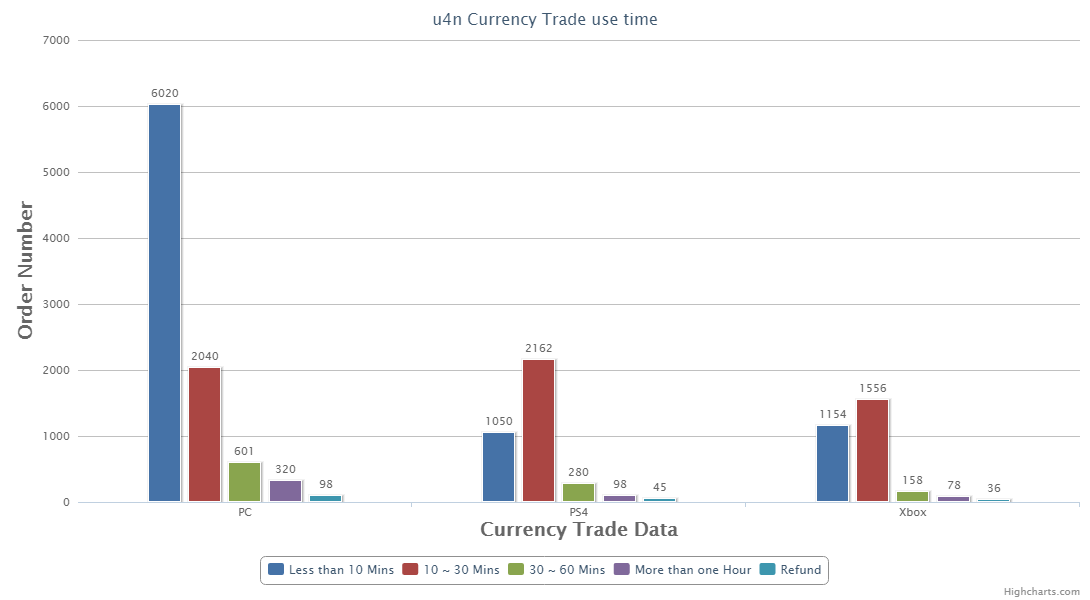 In PC SC League have 9079 orders

81% Orders Competed for less than 10 mins. 15% Orders Completed within10 ~ 30 Mins. 3% orders Competed within 3~60 Mins. %1 Orders delivery more than one hour or refund.
In Ps4 SC League have 3635 orders
30% Orders Competed for less than 10 mins. 60% Orders Completed within10 ~ 30 Mins. 6% orders Competed within 3~60 Mins. 4% Orders delivery more than one hour or refund.
In Xbox One SC have 2982 Orders

25% Orders Competed for less than 10 mins. 55% Orders Completed within10 ~ 30 Mins. 15% orders Competed within 3~60 Mins. %5 Orders delivery more than one hour or refund.
Price Superiority
In order to prove the price advantage of u4n, we made a PoE price statistics report, which reported the main currency prices of PoE League Xbox, PC, and PS4. We selected the well-known PoE Currency Offer Website for price comparison. The following report is a month of u4n Poe Main Currency Compare with well-known AVG Prive.
U4n price within one month is 10% cheaper than other websites