How to Buy & Trade
How To Trade Poe Chaos Orb
We Trade Poe chaos orbs face to face at the hideout.
1. Our Players will send a Friend Request to you and invite you to a Party; please accept Request in game.
2. Our Players will into your Hideout if you have one.
3. If not have Hideout, please go to Lioneye's Watch of ACT-1 after you join the party. We will go there and trade Chaos Orbs With you.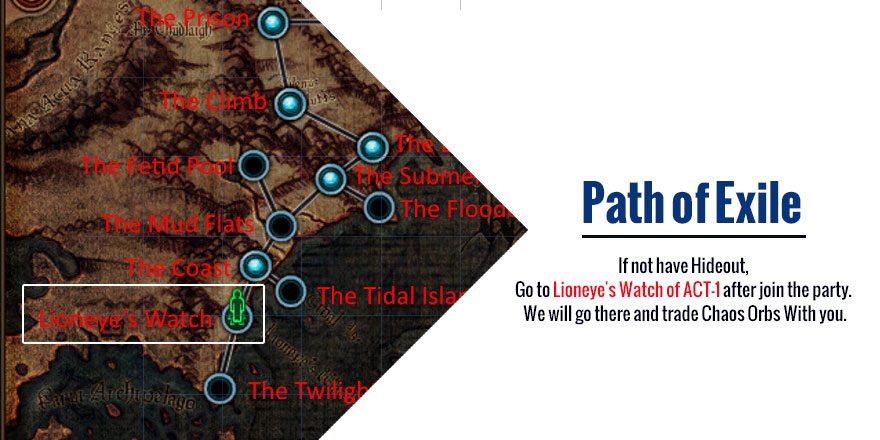 4. Make sure to give us some items as the offer when Trading.
About Poe Chaos Orb
PoE Chaos Orb used to re-roll the random modifiers on a piece of rare equipment.Chaos Orbs are uncommon currency items that will be dropped by slain monsters, chests, destructible containers, and Arcanist's Strongboxes. In the transaction between players, it plays the equivalent of WOW Silver. It is mainly used for trade Currency except for Ex, and Mirror of Kalandra or equipment of no more than 1200 Chaos Orbs (up to 1200C in one transaction).
How to get Chaos Orb
1. Use Poe Chaos Orb Vendor Recipes
2. Exchange With Divination Card From NPC
3. Kill Monsters Drop Chaos Orb
4. Bid not use item in poe trade webiste
6. Buy chaos orb From u4n Chaos Orb
U4N With Poe Chaos Orb
Chaos Orb is a kind of currency in Poe, it has no difference in quality, so u4n's aim is to provide the best service. In order to guarantee the delivery speed, we have done a lot of Chaos Orb Stock for Ps4, Xbox One, and PC to ensure that every order is placed on the website. Customers receive Orb within 10 minutes. Below is the order transaction for Chaos Orb in the past year, 72% Chaos Orb delivery less than 5 mins. 3% Orders use more than 1 hours.